Our programs mainly focus on; fighting stigma through awareness campaigns in communities; conducting free sickle cell screening and testing; psychosocial support through community sickle cell support networks; family economic empowerment for poverty alleviation and disability rights inclusion.
FIGHTING STIGMA; under this initiative we move to communities and educated the people about sickle cell disease, its health effects , their management and care. We go an extra mile and give medication handouts to people living with sickle cell . In schools and tertiary institutions we are establishing Sickle Cell Clubs as a means of fighting stigma and offer psychosocial support.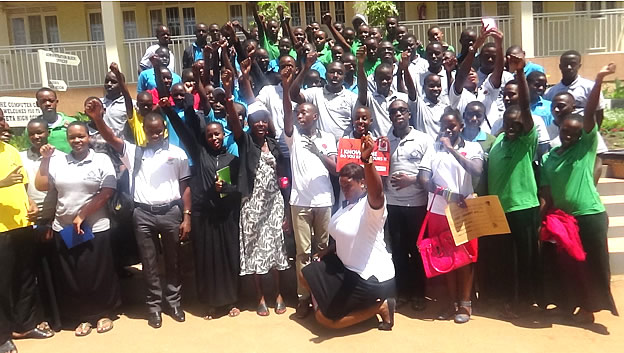 Besides is a photo of the "Sickle cell Club at Seeta High School"
FREE SICKLE CELL SCREENING AND TESTING; We could free sickle cell screening during our community activities and on every Wednesday at our office . This is aimed at promoting exclusive awareness of Sickle Cell . When people test they are ultimately informed about there sickle cell genotypes. Currently 1% of our population is aware of their sickle cell status, this means that people who are sickle cell carriers are ignorantly marrying.
PSYCHOSOCIAL SUPPORT THROUGH COMMUNITY SICKLE CELL SUPPORT NETWORKS; following the sickle cell screening and testing, we cluster the affected families into focus groups with an aim of offering psychosocial support using our accredited team of Sickle Cell Counselors.
FAMILY ECONOMIC EMPOWERMENT FOR POVERTY ALLEVIATION; Sickle Cell management and care has a big financial burden to the affected families. This burden is as a result of the frequent hospitalisations of the persons living with sickle cell, to the Care-takers /family members there is a loss of productive time due to work absenteeism which leads to loss of employment in most cases. Our economic empowerment program enables us to promote poverty alleviation through agribusiness and art and crafts. This program is in its initial stages and it is spear headed by our Sickle Cell Family Forum.
DISABILITY RIGHTS FOR INCLUSIVE COMMUNITIES; We are working with district local governments to promote inclusion of people living with sickle cell in community activities. Given the stigma and social discrimination people living with sickle cell disease in Ugandan communities it is incumbent upon us to promote their inclusion in community initiatives. We are currently working with the Rubirizi District sickle cell and physical disability association in this initiatives.